William Guy Carr om den stora världskonspirationen
Thursday, 21 May 2015 20:14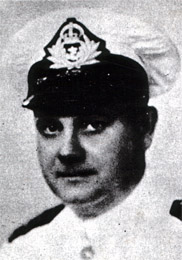 källa
Amiral William Guy Carr skrev 1955 sin mest kända bok Pawns in the Game som då sålde mer än 500 000 ex. Men redan 1932 spred han konspirationsteorier som anklagar Illuminati med boken Hell's Angels of the Deep. Han pekade ut "International bankers" med Rothschilds och Rockefellers i spetsen, som han dömde ut vara djävulska krafter på jorden. Det var mycket tidigt. Carr var långt före sin tid. Han fick säkert bra insyn bakom kulisserna genom sitt arbete för den kanadensiska säkerhetstjänsten.
Mer om den stora konspirationen mot alla människor på White TV här:
Satanisten och frimuraren Albert Pike och hans kännedom om de tre planerade världskrig;
Svenska frimureriet under djävulsk kontroll! Tack Ers Majestät att Ni vände dem ryggen!
Illuminaternas hemliga vapen mot oss: Den Nya Världsordningen;
Jüri Linas Under Skorpionens Tecken Sveriges viktigaste historiebok ;